We can take care of all your stain removal needs.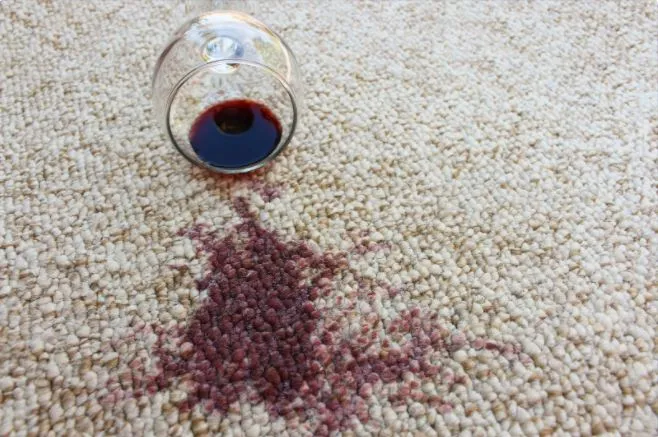 We have all there. One too many glasses of wine or a can of beer placed by the side of your sofa for a few seconds, and then the inevitable happens, and you're left with a mess on your carpet! … Whilst the shock of knocking over your favourite beverage can outweigh the potential damage to your carpet or furniture, it is a situation that needs dealing with correctly. Don't be tempted to rub the surface; lightly mop the area and then call us as soon as you can so that we can take care of it promptly.
Stains can also consist of anything, from a child who has accidentally dropped food to an animal that has had a little accident. We have come across all these situations and more, so let us deal with them swiftly for you.
How do you get stains out of carpets?
Different kinds of stains require different types of treatment. We have several stain removal solutions available to us, depending on the kind of issue you are having.
As a general rule of thumb, if the spillage is wet or damp, it's best not to attempt any treatment yourself. You may find that you spread the stain further across the carpet, creating a bigger problem for you down the line.
Give us a call so that we can advise you on the best solution for your stained carpets.
Can you get really old stains out of carpets?
Yes, this is quite common. Our treatments are efficient at removing stains that you might have had for quite some time. However, it's essential to understand that the older the stain, the longer our treatment process will take to get it out. We take longer because we want to ensure that we get your carpets thoroughly clean and remove the stain entirely, so there is no risk of it coming back once the carpet has dried.
There is no point in rushing the job and potentially making things worse for you in the long run.
How to get dried dog urine out of a carpet
If you have a dried dog urine stain on the carpet, please call us. We can determine from there what treatment is most appropriate to clean your carpets thoroughly and quickly without causing any damage.
Can you clean wool carpets?
Yes, definitely! Our treatments are perfectly suited to cleaning all types of carpets. We don't make any distinctions between materials or fibres when it comes to treating your carpets.
All of our solutions are eco-friendly and non-toxic, so you can rest assured that your carpets will be in good hands, and we will do our utmost to remove your stains from whatever material or fibre type you have.
How do you get red wine out of a carpet?
As with any other spillage on a carpet, we recommend that you don't attempt this yourself. The residue can be smeared, so your carpet will most likely look worse than it did before you started mopping the area.
Our treatments are perfect for removing red wine stains. The process is efficient and straightforward without running the risk of causing any damage.
You can rest easy knowing that the service we provide is ideal for your carpets, no matter what type of material or fibre your carpets are made out of.
Stain Removal near me
We cover a vast area of Kent, the chances are if you found us by searching for 'Carpet Stain Removal Near Me 'or something similar and we came up, then we cover your area.
Our Carpet Cleaning Service
Carpet Cleaning
Rug Cleaning
Sofa Cleaning | Upholstery Cleaning
Scotchguard
Stain Removal